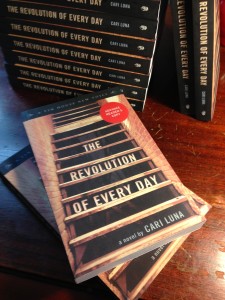 Hunh?
ARCs! Advance Reader's Copies! Ooooh! Look how pretty!
Guys, I've been waiting my entire adult life for this milestone. It's not in its final form yet–which will include fancy French flaps and pretty deckle edges–but my book is book-shaped! And weighty! And very, very real.
I held it together pretty well when I stopped by the Tin House Books office for a meeting and to pick them up, but I'll admit I cried as I drove home with the ARCs in a box on the seat beside me.
And yeah. ARC giveaway on the blog. Absolutely. Soonish. Stay tuned.