In the realm of trashed kitchens, we hit absolute bottom this weekend. It got so bad I was compelled to post a photo on Twitter. I think I made a lot of people feel a hell of a lot better about the state of their own kitchens. No matter how bad they are, they likely didn't look like mine.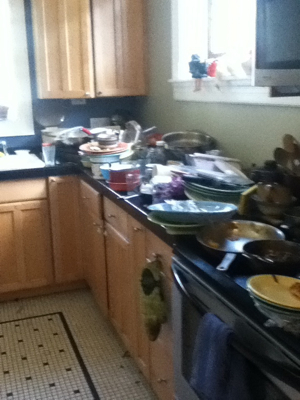 Ready for the excuses? See, the whole house was spotless last weekend (confession: because we had a house guest). And then last week I had a cold and had a tight freelance deadline and didn't have the energy to clean at night after working on the freelance because of that cold and…and… Yeah. I never clean at night when I'm on deadline because there isn't time to do both and deadline with a paycheck at the end of it trumps clean house.
What really happened is that the kids usually get screen time once a week, after Kiddo gets home from school on Friday. I love Friday movie day. I look forward to it all week. I clean the kitchen and straighten up the downstairs and get dinner going while the kids sit on the couch all glazed eyes and slack jaws. It's about as luxurious as it gets around here. This past week, though? The same week that I had a cold and a tight deadline? I went and shot myself in the foot and took away movie day as a consequence for bad Kiddo behavior. I regretted it as soon as it was out of my mouth. Couldn't I have taken away his Legos for two days? Made him clean the bathtub? Put him on compost duty for the week? Nope. Had to right off the bat go to the consequence that punishes me. I'm quick like that. Losing that bit of cleaning time was enough to let the whole mess slide into absolute chaos.
And then this weekend we had two glorious days of sun, the first in a very, very long time, this being Portland and all, and there was no way anyone was staying inside to clean this weekend. (Gotta keep your priorities straight.) By the time the kids were asleep last night the kitchen was more than I could face so I cleaned the living room and dining room (no small feat) and left the kitchen for today.
And then came downstairs this morning and wanted to run away from home.
So don't tell Kiddo, but this morning I plugged the Girlie in to some Yo Gabba Gabba (on a non-movie day!) so I could tackle the kitchen. The fact that I felt so guilty about this that I had to confess it on Twitter probably bears some looking at. The kitchen now looks like this: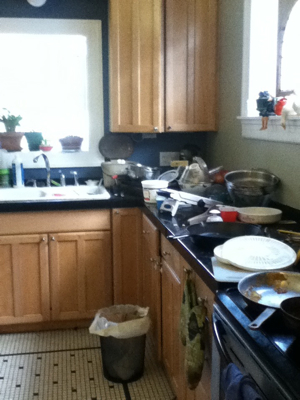 Yeah. Miles to go before I sleep. Am I missing something? Some key instruction I was supposed to be given when the kids were born? How am I supposed to keep the house reasonably clean without plugging the kids in to hours of screen time while also working a freelance job at night and writing novels and every once in a while actually hanging out with my husband? (And yes, Billy does some cleaning, too.) I look at the kitchen and I want to gag, but I'm not sure how to keep it from sliding into that absolute hell all too often.
One of our neighbors, who has two teenagers, has on more than one occasion walked into our house and looked absolutely horrified, which I can only assume means her house didn't look like mine when her kids were younger. So what did she do that I'm not doing? I refuse to ask her, because of those horrified looks. (Shhh. Don't judge. She's a wonderful woman.)
I suppose I could cook less. Somehow that doesn't seem like the right solution, though.