So much to tell you, SO much to tell you, and I keep not showing up here to do it. Man, things have been hectic. Let's do this catch-up all list-like, because I think that's going to be the best way to get this all done.
(Okay…so this post was all written, just waiting for me to plug in the photos and links, and then something crazy and wonderful happened today and it needs to be mentioned here, and I'm so excited about it it needs to be mentioned first. So consider this list item number zero: The Revolution of Every Day has been chosen as the Book of the Week by the editors of oprah.com.)
(!!!!!!!!!!!!!!!)
And now, back to our regularly scheduled list to bring you all up to speed:
(!!!!!!!!!!!!!!!!!!!!!!!!!!!!!!!!!!!)
1. LitHop was last week and it was fantastic.
Dena Rash Guzman posted a great writeup of it on The Nervous Breakdown.
The Tin House reading, which I took part in, happened in a bar. A completely packed, seriously noisy bar. The audience was there for the readings, absolutely, and everyone was really engaged, but even so, reading in a bar as the second to last reader, nearly three hours into the audience's drinking? Not for the faint of heart. Which made it that much more fun. Most writers I know secretly want to be rock stars, and what's more rock n roll than trying to win over a bar full of drunk writers on a rainy Wednesday night?
My fraternal name twin, Kari Luna, was there, and so this happened (Lunas by bar light):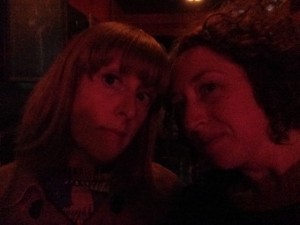 2. Wordstock was this past weekend and it was magical.
I gave a reading with the wonderful Laurie Blauner on Saturday and on Sunday I spoke on a panel about publishing with an independent press.
Look! Me, reading! Don't I look all official and authory? Crazy.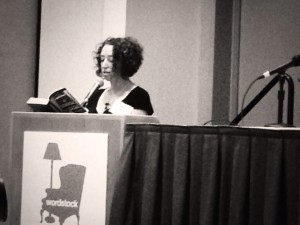 3. I've been talking to people and doing stuff and writing words that people have been putting on the internet:
4. The Revolution of Every Day continues to make its way out into the world. Strangers have started saying nice things about it, which I like. I like that part a whole lot.
BUST Magazine (review not available online. You can read a quote from it on my Press page)
5. You can now buy the book in the US and Canada from Amazon, Barnes and Noble, Powell's, The Strand, Indiebound, and your favorite local independent bookseller. (If they don't have it, they can order it for you. No problem.)
6. You can now by the eBook for Kindle, Nook, and Kobo in the US. Canada very, very shortly to follow.
7. I'm headed to New York, with Billy and the kids along for the ride, next week. The book tour adventure continues!
8. This is all incredibly exciting. Also, I am very, very tired.