1. This is what it looks like when you tell your kids they can each choose two books at Powell's: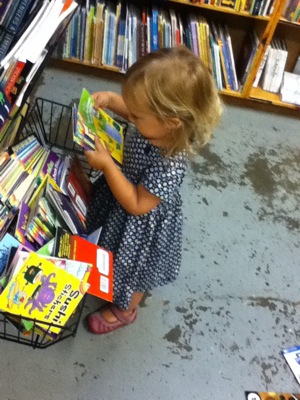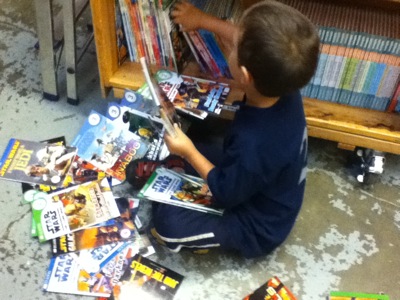 Never fear. Right after I took the picture I made Kiddo clean up that pile of books and compare his choices in a neater fashion.
Girlie chose three books of temporary tattoos, which she had me apply all over her arms when we got home. Arms full of tattoos and a pretty dress–a true Portland girl.
2. This evening a friend with a great eye and a fancy camera took about a thousand photos of me in an attempt to come up with an author photo that won't make me cringe. It's really hard to stand there with a camera pointed at just you for a half hour when you hate to have photos taken of you. I have a gift for looking awkward in photos. My face tenses up or something. Gah. Results to come.
3. I've started reading How to Get into the Twin Palms by Karolina Waclawiak. I'm loving it so far.
4. Billy and the kids got me (us) a fire pit for my birthday, and a friend gave me a S'mores kit for it. S'mores kit–awesome. We had S'mores around the fire pit. I hadn't done that in years and years. But now we've got marshmallows in the house, and Google the Enabler told me how to make S'mores in the microwave and someone really needs to come take these marshmallows out of my house. I'm weak… weeeeaaaaak.
5. Our two zucchini plants have succumbed to powdery mildew before we reached the point of being completely fucking sick of zucchini. That's just not right. A moment of silence for our hardworking cucurbits. (Scourge of the Pacific Northwest! Damn you, powdery mildew!)
6. Remember back in 2003 or so when a lot of us met here online through the knitting blog ring–when the knitting blog ring was a thing, and a cozy thing at that… Something you could click all the way around on one cup of coffee? Yeah… That was nice. I miss the way we used to know each other. I suppose I lost a lot of the knitters along the way, given that I only ever knit plain st st socks anymore, and never post pics of the results.
7. Planning ahead/daydreaming: If I make myself available to Skype with book clubs when The Revolution of Every Day comes out, would that be something you'd be interested in doing? And what if I signed book plates and mailed them to people who want personalized copies of the book but won't be able to make it to one of the readings?