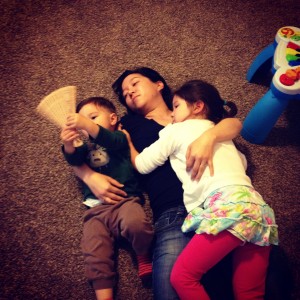 Aimee Phan, author of We Should Never Meet and The Reeducation of Cherry Truong
Many of our friends and family believe that children of writers are blessed. They will grow up surrounded by books. They will love to read. They will value and appreciate literature. All of this is true. What I didn't count on was how deep those influences would reach, and how soon.
Maybe it's because I've fully transitioned into middle-age parenthood where economic reality has long since dampened my young, idealistic fantasies of living off my writing. Instead of spending hours meditating on my characters and plot, I must first trudge through the responsibilities and financial obligations of raising a family in the expensive, but culturally rich San Francisco bay area. Instead of cozily sitting next to each other at coffeeshops, my husband and I trade off two-hour writing blocks so that the other can watch the kids. Instead of accepting every reading or residency invitation with enthusiasm, we must first check our childcare schedule and joint bank accounts to see if we can afford it.
So as our five-year-old daughter Amelie graduates from picture books to chapter books, and creates her own stories and poems in her notebook, I watch with both elation (obviously) and dread.
She is doomed to be a writer.
It is probably built into her genetic code. She is the daughter of a poet and a fiction writer, both of whom were terribly disinterested in their math and science classes. My husband and I both share childhood memories of frequent library visits and sunny afternoons in our bedrooms reading as many books as possible. And Amelie is easily following this path with an overflowing bookshelf and books strewn all over the house (just like her dad, she reads four or five books at once, always dogearing her pages.) She consumes multiple notebooks to scribble down her story ideas and observations. She leaves us notes under the bathroom door while one of us showers. She plays puppet show theater with her brother, and demands another installment of her father's improvisational, never-ending, nonsensical, but endlessly entertaining story Rapunzel Goes to Cleveland. When her father took her to an Oakland A's baseball game last week, he wisely brought along a sketchpad so Amelie could keep score and narrate the action.
I should be insanely proud of her and I am. But I worry. We live in a world that is not kind to artists and writers. We struggle with this reality every day, as costs of childcare, summer camps, activities, and rising rents permeate our conversations and thoughts—when we should be using the quiet time to write. Do we want our children to struggle this much? Do we want them to rely on their more sensible family members for their used-car castoffs and generous Christmas gifts of airline gift cards to help facilitate family vacations?
As their parents, we want to give them the world and everything in it. In order to do that, we provide them the tools (education, advice, love) that will hopefully prepare them to acquire and share these gifts. As writers, we have the privilege of pursuing an art that we cherish and respect. Yet, the sacrifices can feel very stressful when faced with other obligations—most importantly, providing for our children.
As a teacher of artists and writers, I should be more understanding. I should nurture her creativity and passion. She can have the gift of writing. But couldn't she—and shouldn't she–have so much more? At her age, the possibilities should be endless: every door wide open to become a scientist, an athlete, a dancer, an artist, or a doctor. Should her passion only be literature, when there are so many other (lucrative) disciplines to consider?
Yet we are watching, witnessing, delighting in how Amelie's imagination blooms. A few months ago, she received a certificate for the most number of minutes earned in her class for their school fundraiser read-a-thon. I remember how my heart nearly burst after I heard her name called at the school assembly, and how she confusedly, but excitedly scrambled up the stairs to accept her certificate from Bob The Diver ("Dive into Books!" he reminds the students.) She was happy, proud and breathless, and deservedly so. If I could replicate this feeling to reoccur in her life forever, I would.
Ultimately, her destiny is out of my hands, as it was for our parents who had to listen and smile patiently when we excitedly announced our plans to become creative writers. We will support and encourage and hope for the best because we want our children to be happy. And from our experience, we know that a life of writing, while difficult and challenging, can also be amazing, fulfilling, inspiring. It is, after all, the life we still want.