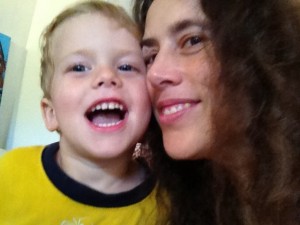 Gayle Brandeis, author of of Fruitflesh: Seeds of Inspiration for Women Who Write, Dictionary Poems, the novels The Book of Dead Birds, which won Barbara Kingsolver's Bellwether Prize for Fiction in Support of a Literature of Social Change, Self Storage and Delta Girls, and her first novel for young readers, My Life with the Lincolns. She released The Book of Live Wires, the sequel to The Book of Dead Birds, as an e-book in 2011.
For mothers who write, I have two words of advice: joint custody. My husband and I separated two months ago, and I suddenly have the luxury of a few nights a week to myself. I miss my three year old when he's with his dad, but I am starting to feel like myself again. I am starting to feel like I can breathe more fully. Like I have time to actually drop into my writing and swim around inside of it.
Of course this is not the ideal solution for every mother writer. It goes without saying that a happy, intact family is best for all involved, if you can make it work. And as much as I appreciate living alone for the first time in my life–and let me just say, I really, really appreciate it–it's not all dancing around the living room in my underwear, although there is plenty of that. My husband and I can't afford two households, so money is a constant source of stress, and I've filled a bunch of my newfound time with extra freelance work to pay the bills. And sometimes I don't use the time I have been gifted very well–this transition has been full of emotional upheaval, and sometimes I just need to decompress and watch Orange is the New Black instead of write. But I feel the time expand around me, spacious and full of possibility, and I know that I will find a way to stretch into its promise.
This is my second round of parenting. I had two kids in my early twenties, who are now 22 and 19. My first husband and I were poor when they were little, so we couldn't afford much in the way of childcare, although my eldest did go to state-funded preschool around the time his sister was born, and we would trade babysitting with our neighbors on occasion. Mostly, though, I was home with the kids, and somehow I found time to write. I always had a notebook nearby; I would write while nursing, write while in the bathroom. This was pre-Internet, and we went through great stretches not having tv, so there was less media-related distraction in the house, but I don't think I can chalk up my productivity to that fact, alone. The writing/mothering balance felt like being a mermaid–diving underwater when I could with my work, then breaching the surface and growing legs again when the kids needed me, seaweed still dripping from my hair. It felt fluid, this balance, a fairly easy back and forth between realms. I would have loved more writing time, but I wasn't desperate for it.
When Asher was born in 2009, things were different. I was 41, and my life wasn't nearly as simple as when I first had kids. I wasn't just writing and mothering; I was also teaching, and promoting books, and doing freelance work and getting sucked into the internet way too much, plus I was actively grieving my mom, who took her own life when Asher was one week old. And then my new husband's mom died unexpectedly less than four months later, and our life became one big morass of loss (thankfully countered by our sweet son, a beam of light and joy from the time he was born.) I wasn't getting much done, to put it mildly. Even once Asher was old enough to go into preschool and I had a few hours a day to myself, I didn't feel like I had enough time to address everything on my plate, and my own writing often came last. I would regularly slink off to my office after my husband came home from work, starved as I was for more time to think and write and be, but that never felt like enough, either. As much fun as I had with our sweet boy, as lucky as I knew I was in the big scheme of things, I often felt depressed, a pale replica of the optimistic woman I once was. I didn't let anyone–not even myself–know the depth of my despair. And then my marriage fell apart, and suddenly I had more time to myself, and I started to come to life again. I'm a better mother because when I am with my son, I am fully with him, not as distracted as I had been. And I'm a better writer, too, or at least I have the potential to be, because I'm making a more conscious effort to speak my truth, to live as authentically as I can.
So don't leave your partner just to get more writing time. That's certainly not the only reason for my own separation. But do fight for the time you need to claim your own space and voice and breath as a writer–whether that means trading child care one day a week with another writer mama, or spiriting your notebook into the bathroom, or getting a little bungalow of your own. Do what you need to do to mother your own writing self as you mother your kids. Once you do that, time may just find a way of opening itself to you.