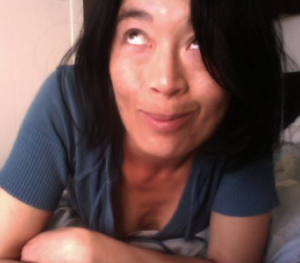 The year before I had kids, I had a routine. I taught full-time at an arts college in San Francisco, and I squeezed my teaching into three days. On the other days, I would get up, walk two blocks from my Lake St. apartment to the coffee shop on 5th and California, and write. I would write from when the fog was still blowing until the sun was bright and high, and then I would close my laptop and walk to the beach, or head to the Presidio and wander around under the eucalyptus trees. Anything that involved moving through space, silence, the great expanse of air across the Golden Gate.
At night I went to Indian restaurants in the Tenderloin, listened to other poets read, heard music, skinny-dipped in the Pacific, and sat at my desk and looked through my work, trying to figure out how it would add up to a book. That was the goal: that was what I finally didn't have an excuse not to do the way I'd had in high school, in undergrad, temping, in grad school. To finish something, and to bravely send it out into the world. To invest in something. To believe in it. To finally, now that I was done with all the moving around, put down roots, deep ones, and make something grow.
I wasn't done with the moving around. A series of unexpected events found me six months pregnant, newly living in Portland. I had been there only weeks when the San Francisco poet Norma Cole came to read at a local college. I knew Norma slightly — she is something of a grande dame of the Bay Area poetry world — and we had friends in common. I went to her reading, and we had tea afterwards. And over her cup she looked at me, smiled beatifically, and said, "There will be time, you know. For writing and for children. For everything. There will be time."
I took comfort in what Norma said. She had a child, and she was a committed and respected poet. She seemed wholly engaged in her work and not to harbor any regret or conflict about her son. I told myself it would be possible not to have my mind softened by worries about Bisphenol A or crib death or Montessori. I told myself she was right, my mind would still belong to me, mother or no.
It didn't. There was no time. I got a job at the local college when my son was two weeks old, tenure-track when he was one. My daughter, a surprise, was due the day Fall Quarter started in my second year of tenure review. My husband had gone back to undergrad, and in between breastfeeding and singing in two languages and mashing organic avocado, I was on call for thesis advice, prompts, editing, and ideas.
I was the chief breadwinner, the "decider," the on-call nightmare remediator, the food supply, the researcher of childrearing wisdom, and the social hub of our household. I assessed lead poisoning risk and collected preschool literature. I was the shopper, the accountant, and the maid. I was also the only person who washed the floor.
I wrote almost nothing. And there was no more walking, no more silence, no more expanse of air. I was in a closed chamber, and I could barely breathe.
Much of this, of course, was my own fault. I compulsively prioritized others' needs above my own. It seemed to me that parenthood required it. I barely opened my computer except to look up rashes or colic. I did not know how to be as arrogant, and delusional, and selfish as one has to be to pursue something as improbable as writing with any zeal.
The demands of parenting did not let up. When my son was three and my daughter one, I was divorcing. The events that lead up to that decision were not peaceful. My son was frightened, angry, and traumatized, with plenty of threats of suicide and patricide. My daughter clung to me as soon as I got home from work and didn't let go for hours.
I spent two years trying to rebuild their sense of stability, of calm, while earning tenure and mashing avocado and having my kids 100% of the time. At night I would sit on the front porch and drink wine and curse Norma Cole for her facile reassurance. Quietly, so as not to wake the children.
I still wrote almost nothing. I had a friend who ran a reading series involving a series of Oulipian prompts and a group performance. I read in it three times. It was like getting oxygen, but not nearly enough. Another friend had a fiction project that I worked on two readings for, one on domestic violence (free therapy!) and one on homelessness. It was good, but getting babysitting for that one night a week was excruciating and almost impossible. Not the kind of thing that makes you feel like a free agent. And still, other than these projects that involved fulfilling other people's expectations, I was mute.
I thought of my days in San Francisco, the space I'd had, the time. All of the files of poems and stories and two-thirds finished novels from that time were still on my hard drive. I never opened them. I didn't know where to start. Writing felt like my other life, the one I had before I had to dedicate my energy to more immediate concerns, like our heads (roof) and our table (food).
When the kids were five and three, we moved to Los Angeles. It was a pragmatic move, but it was also a selfish one. I hated where I lived. I hated the sameness of it, the complacency, the trendiness. I hated the constant parenting competition, I hated the self-righteous felting and crafting, and most of all I hated having to be the token insert-category-here wherever I was, every single time. There was no way I could afford to go back to the Bay, but Los Angeles seemed, at least, to offer diversity, enormity, chaos.
Moving is something I always liked. Moving with kids is something else. I was overwhelmed, exhausted, lonely — and not wrong about the chaos of L.A. Just learning the routes from the school to the grocery store to my new job (25 miles away) made me want to give up. Instead, I trudged through my duties. I made food, I paid bills, I drove.
Then came the court battle, which was long and arduous and, in the words of my attorney, basically changed nothing. But it drained my savings and ran up my credit cards. It pulled the noose a little tighter. I was trapped. I was despairing.
It was a hard year. The fires kept igniting, and I kept putting them out. I realized that my life wasn't on track to change, in the sense that the demands of my children, of single parenting, of my limited income were unlikely to. My friends told me to marry a rich man. I've never been the type to marry a rich man; I attract beach bums and cheapskates, since I am always willing to pay. I considered hooking, but I didn't know how to break into the trade. Ditto dealing drugs to the other parents at school out of the trunk of my car.
This isn't a phoenix from the ashes story. I don't have a book on the New York Times bestseller list. But finally, after a year in this new city, after beating my head first against the wall of my marriage (which demanded that I do everything) and then my single parenthood (idem.), I figured something out.
Norma is still wrong. In my life, there isn't time. There will never be time. There will always be someone else's need that wants to come first, someone else's demand that wants answering. And I will always be able to let that distract me. But, doing that, I was miserable and angry and almost convinced that my destiny was to be a factotum to a couple of ungrateful kids, a pariah in a world full of Smug Marrieds, and an occasional girlfriend to some needy single dad or another whose emotional desperation and cluelessness exceeded even mine, and I realized that if I kept on that way, all that effort — all those school fundraisers and mashed avocados and bedtime stories and nights home alone — was going to be for naught. Maybe, when they were little, my kids needed my self-abnegation. It sure seemed like it. But now they need me to be someone else. Someone whose internal life is not a big pile of rotten fall leaves. And I need to be someone else. Someone who puts words on a page and who believes that doing so matters. As arrogant and delusional and selfish as that may be.
One of my favorite books, the Phantom Tollbooth, tells the story of a heroic journey made by a young boy and a large dog in an electric car into a fantasy world. As the boy sets off, the king tells him there is something he should know, but they can't tell him until he gets back. The something, of course, the boy learns upon his return, is that it is impossible.
I'm not going to claim that it isn't. I have a full-time job. I commute 45 minutes each way, plus 15 on top of that getting the kids to and from school. My kids are not easy. And there is no one else shouldering any of the load. There are still fires, and tantrums, and electric bills. And every moment I steal for myself — to see a friend, to read a book, to bathe — takes a moment away from something else.
I sometimes go all day without going to the bathroom. Not because I don't want to. Because I don't have time. Every moment is packed with primary, secondary, and tertiary demands, plus a backlog. Some mornings I'm ready to quit before I get to work. Some mornings it seems there's no oxygen at all.
The surface of the water seems far away. But I am figuring out how to breathe through a straw. I started getting up early and writing. One poem a day, most days. You can't, in my circumstances, insist on every day. You can't insist on anything.
I have a friend, a nonfiction writer who has built a career, has published several books, has made a priority of bringing interesting ideas to light, of looking closely at the world. He told me that things are finally starting to work for him financially, after years of barely making it. I admire his courage. Not the courage to make things work — the courage of all those years of barely making it and somehow keeping on, not giving up and going into teaching or accounting or tech support. His writing is a tree, planted, nurtured, and tended, and the branches are starting to flower. I didn't have the balls to do that, not before kids, not after. It was so important for me to know that we could pay the electric bill, that I would not be couch-surfing or getting my rotten incisors yanked by Mexican dentists, that I never had the guts to try to make writing a career. (Of course, in poetry that was probably wise, since I don't know anyone who does make a living that way. And even with the teaching job, I still drive an eighteen-year-old car.)
I was thinking about what that would take, to build something with such beauty and integrity. A chateau-fort, or a sequoiah. I have something different: I have my teaching job, and I have my family, and I have to figure out how to graft some third and unlikely plant onto them. This, too, might seem impossible. But I have figured out that I have to believe it's worth doing, and that I have to do it, even under an enormous shadow of doubt.
Colette wrote, "Look for a long time at what pleases you, and longer still at what gives you pain." I have spent these last eight years looking. And I have finally come to appreciate what Norma told me. Maybe it wasn't quite true. But she has been doing this for a long time — this writing, this parenting, this being a woman who believes her words matter. What did she mean by "enough"? And what else could she possibly have said?