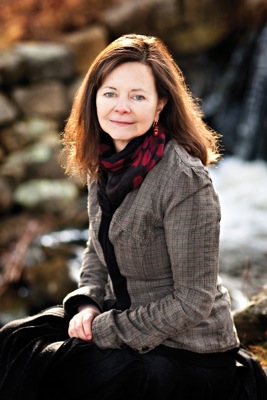 Geraldine Brooks, Pulitzer prize-winning author of Caleb's Crossing, People of the Book, Year of Wonders, March, and others
I became a novelist because I had a child.
I'd been a foreign correspondent for over a decade, in the Mideast, Africa and the Balkans. I'd never set out to be the khaki-wearing, flak-jacket-toting kind of reporter but by accident, I had become one. And once you show your news organization that you are capable of that kind of work, it's all they ever want you to do. So I covered wars, uprisings, famines. And then I got thrown in the slammer in Nigeria while reporting on Shell's collusion with the Nigerian military. I'd been finger-printed, mug-shot, interrogated. I had no idea how long they were going to detain me, and as I lay on the concrete floor of the Port Harcourt secret police lock-up, I realized I was 38 and I'd forgotten to get pregnant. It was the first time I'd heard the biological tick-tock. When they deported me after only three days' detention, I was immensely relieved and I went home with a new plan.
My son was born the following year. Suddenly I no longer wanted to go off on long open-ended assignments where you had to dodge bullets and secret policemen. So I started writing books. I have a telling photo from that first year. My son is in his bouncy seat, up on my desk, next to my laptop. I'm typing with my left hand while jostling his seat with my right.
It often feels that way, even now, when my sons, at ages16 and nine, are long beyond bouncy seats. But holding down two jobs, writer and mother, is not a negative. At best, the mothering feeds the fiction in important ways. I think Anne Enright put it admirably: the baby carriage in the hall is not, she says, the enemy to great writing. It's the enemy to great drinking.
My writing job starts when the school bus arrives. I watch from the kitchen window as it pulls away and pour a fresh cup of coffee. On the way to my study, I pick up the Norton Anthology of Poetry. I let it fall open at random and read whatever poem I find. Then, pump primed by those buffed and honed words, I sit down to work. When the boys were smaller, before I had the luxury of a whole school day– it was often hard to explain the nature of that work to them. I would set them up with a game or a project and slip away. Some time later, I would feel eyes boring into the back of my neck, and turn to find folded arms, an aggrieved expression:
"You said you were working."
"I am working."
"No you're not. You're just sitting there." Try explaining to a four year old that it's necessary to sit quietly so as to hear voices from the past, so as to commune with the long dead.
It's easier, these days.
I still tend to leave off my writing when the kids get home from school. Not because they necessarily need me hovering, but because I like to help with homework and listen to music practice, and also to be available for the unexpected teenage confidence, which tends to come unpredictably. I have also found that some of my gnarlier plot points resolve when my hands are in the challah dough or stirring the roux. It's like one of those illusion paintings where you see the image best if you look slightly away from it. Another advantage of lurking around young kids is witnessing the way their imaginations make athletic leaps. It's a bit like watching Olympic equestrians in the three-day event when all you can do yourself is a slow trot on a fat pony. It inspires you to be better, bolder in allowing plot to unfold in more fabulous ways.
And the other plus: reading children's fiction. We are in a golden age of literature for the young, it seems to me. And those writers understand plot…the inexorable necessity for x to lead to y, with x being something interesting and y being exponentially more interesting. Often, I set aside the book I'm reading to my son with regret–having read him comatose in my own effort to learn what happens next. And when I crawl into bed with a luminous, liminal, critically acclaimed adult literary novel, I sometimes want to drop kick it out the window. Too many writers of adult fiction seem to despise plot. It's unwelcome, embarrassing, like a zit on a wedding day. Reading to my sons reinforces my own belief that story is central, and is ignored at a writer's peril.
Okay, alright. It's not all great. Sometimes I would like nothing better than to write myself out, into the wee hours. To chain myself to my desk in a wine-fuelled all nighter. But mothers can't do that. Or at least not very often. We need to show up. We want to show up. I often think of Stravinsky, who notoriously expected absolute silence from his wife and kids at mealtimes when he was mid-composition so that conversation did not interfere with the music in his head. What woman would ever suggest or expect such a thing? I used to think: That jerk. Why not take a tray to your room, or make your own bloody lunch? But now I feel sorry for him. For it is only by letting roots dig down deep into the rich humus of quotidian family life that we can ever really understand the full range of emotion–the loves and hates, the aggravations and exhilarations, jealousies and generosities that are the necessary subjects of art. It is there, in the kitchen, at the dinner table, amid the noise and the arguments, that I find the sustenance I need to bloom.