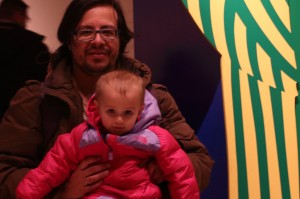 Javier Moreno, author of Lo definitivo y lo temporal (2008), Inframundo (2010) and Despegue (coming in 2014)
Age of kid: 17 months.
What was your writing schedule (ideal and actual) like before kids, and how has that changed?
My writing schedule used to be sporadic. I tried and tried whenever I had the time and got tired and tried again until I found I was into something. Once there, I started waking up early in the morning, around five, and wrote as much as I could until eight or nine, it depended. Some days I would write all day long. Some days I would start writing late at night, after eleven. Before having children I was struggling with my career as a professional mathematician and writing short fiction pieces was a way of avoiding what I was supposed to be doing. Two short fiction collections came out of that.
When my first kid was born in September 2010 and died three days later I started to realize that I was devoting my life to something in which I did not really believe anymore (i.e., all that structured and kinda pretentious career of trying to become a professor by doing research to publish dubious papers that nobody really reads or cares about) and in the process I was missing out on truly important things (e.g., most of the first pregnancy). And although I continued doing math for a year or so I stopped right away once we were pregnant again. I wanted to be there and I wanted to be the parent in charge once she was born. That would be my job. During the pregnancy, as a sort of homage to my short-lived son, I finished a short science-fiction novel for children about a little kid who helps his older and sick cousin to escape planet Earth and live "up-and-out" in space with his long gone father.
I have been completely in charge of my daughter since she was three months old and her mother had to go back to work. We live alone, with no family near by and not many friends either, in a small college city in Ontario. Life has changed a lot in all sorts of ways but writing is still that quiet place where I find solace before or after the long days with the baby. It has been hard to come up with engaging ideas but during the summer I joined forces with my friend Luis Noriega, also a Colombian writer and father-at-home who lives in Arenys de Mar, near Barcelona, and in less than a month we pulled together 50,000 words of something that now, after some revisions and 10,000 more words, looks like a post-apocalyptic novel for children with amorphous monsters, heroic young girls, and giant robots. The sort of book I dreamed of writing when I was ten or twelve. We hope to be able to finish it during 2014.
How do you remain present for your family even when you're sunk deep into a current project?
I have no choice. My writing time is extremely restricted (from 5am to 7am, that's it) and I spend the rest of the day with my daughter or cooking or, occasionally, cleaning up the apartment. Whatever I must write has to wait. In a way it is good.
How has parenthood changed the work itself, if at all?
It has forced me to be more disciplined and careful about time. I has also made me more interested in writing fiction for children and young adults. I still keep some projects of adult fiction on the go but the idea of writing stories for her, the kind of books I wished I could have read when I was growing up, is really exciting.
What is the most challenging aspect of being a working artist and a parent?
I lose focus easily and the anxieties and responsibilities of parenthood have made me even more prone to distraction. Kids are extremely difficult and dynamic puzzles, always changing and always coming up with new challenges. Sometimes this affects my writing routine. I have had months when I am unable to attain any progress. It is always hard to recover the rhythm.
Do you have any advice to other writers with kids or who plan to have them?
Organize your time. Be disciplined and patient. Keep writing. Enjoy the kids. They are a wonderful disruption. They create new worlds.