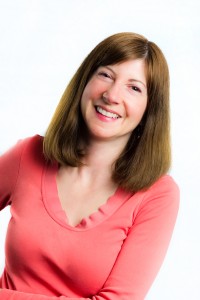 Leah Bassoff, author of: Lost Girl Found (Groundwood Books) along with a co-author, Laura Deluca
Age of kids: 11 and 13
What was your writing schedule (ideal and actual) like before kids, and how has that changed?
Even before kids, I have never had a set writing schedule. Rather, I have always been someone who sneaks away to write. When I was just out of college and working as an editor for Penguin Publishing, I used to go to work early, when no one else was there, in order to have a place to work. At the time, I was living with three other roommates in a one-bedroom apartment. I went straight from living with roommates to being married then having kids, so I have never had that "room of my own." Coffee shops have always been my writing "office."
The most productive writing period of my life was when my first son was born. He was one of those babies who never slept for more than an hour at a stretch, so I was constantly up and constantly sleep-deprived. I began writing late at night to keep myself company. I wrote with the frenzied energy you might get from drugs, only my dreamlike haze was from sleep deprivation. Though I would never want to relive that insomniac period of my life, I look back on it with a sweet nostalgia.
How do you remain present for your family even when you're sunk deep into a current project?
When I was younger, I was much more spontaneous. I constantly made friends with strangers and traveled to new places. As a mom, I could no longer do this. When I began writing a book about Africa, I longed to visit Sudan in order to do research for my book. However, I was too bodily attached to my children to leave them behind and too afraid of them contracting malaria to bring them with me. Instead, I had to do research for my book in other ways.
Even though I couldn't physically leave my children, I also always knew it was important that, as my children got older, they saw me as someone with my own intellectual pursuits that went above and beyond doing their laundry. I always taught my kids that finding a creative outlet should be a life goal. My kids know that, when we have a free moment, my husband plays his guitar, and I write. They see that we both have our day jobs, but that we also have delicious double lives as well.
Because I was teaching and being a mom, my book took seven years to write. I always joke that the book was like a third child that grew up alongside my actual children. Although my family would sometimes wearily ask, "Are you still working on that same book?" I hope that my having stuck with the project for so long will teach my children to be persistent (and maybe a bit dogged as well).
How has parenthood changed the work itself, if at all?
My novel Lost Girl Found is about, among other themes, a mother-daughter relationship. Being a parent has given me so much more compassion for the rest of the world. I remember sitting up with my sons late at night when they were babies and ill, and I would think to myself, somewhere, in another country, a mother is up with her child, too, only this mother cannot afford medicine for her child, and this mother may lose her child. It was only after having a child that I began to believe that parenthood is the thread that connects us to all of humanity. As a mother, there are things you understand about every mother, no matter what walk of life she is in. This knowledge helped me understand and have more compassion for my characters as well.
What is the most challenging aspect of being a working artist and a parent?
My own mother was a great model for me. She took care of us, worked full time as a psychologist, and wrote books. I do remember that, when she wrote, she would get a faraway look in her eyes, and she would sometimes be in her own world after emerging from one of her writing sessions. I experience the same thing as a parent. Sometimes when I get home from writing, I know that my mind is elsewhere. It takes me a bit of time to transition back to the world of my children again after I have been in my own head for a while.
Do you have any advice to other writers with kids or who plan to have them?
The author I idolize the most, Toni Morrison, once wrote about her son spitting up orange juice on top of something she had just written. Instead of throwing it out, she continued to write around the orange juice spill. I love this! The moral is keep writing, even when you are writing around dirty diapers or sleep deprivation. Other advice: take long showers. For me, the shower was the one place in the house where, for a few blessed minutes, I couldn't hear my baby crying. I did a lot of deep thinking and story planning during these ten minute "getaways." Finally, go on a real getaway, on a writing retreat. Go somewhere where you might not be accessible by phone. Trust in the fact that your husband or your child's care taker will be all right without you for a day. Being away from home allows you to really focus on your writing rather than worrying about your guilty should-do list. Living in Colorado, my writing partner and I went on several retreats to the mountains. Sometimes we would bring our kids along, but, on other occasions, we would leave them behind and have an amazingly productive and restful time.