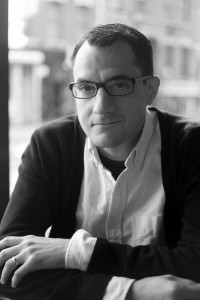 Sean Singer, author of: Discography (Yale University Press, 2002), Honey & Smoke (Eyewear Publishing, forthcoming 2015), and the chapbooks Keep Right on Playing Through the Mirror Over the Water (Beard of Bees Press, 2010) and Passport (Beard of Bees Press, 2007).
Age of kids: two girls, 8 years old and 16 months old
What was your writing schedule (ideal and actual) like before kids, and how has that changed?
My writing schedule before kids was more vigorous. I could stay up all night and was focused on writing much more. My ideal schedule was to write for hours every day. My actual schedule was probably more sporadic, but I would write poems for years, do research for poems, and read a book a week. All that's changed because children force you to live in the present moment. I write when they're in school and daycare. I don't work on the weekends, and go to sleep at 10:30, so nights are also out. One has to be productive and focused with less time. Children being happy is more important than writing a lot.
How do you remain present for your family even when you're sunk deep into a current project?
I try to sequester time when I can be devoted to the project. My second daughter was born in March 2013 and I defended my dissertation in May; those few months were are a good illustration. It was chaos! If you want to know what that's like, to paraphrase Jim Gaffigan, "just imagine you're drowning and someone hands you a dissertation and a baby." It's wise to show by action; when the girls see focus and devotion, it cultivates those things in them. Being a writer is something a person has to do, not because it's rational or even reasonable. One solution is to pick smaller, more manageable projects, like a 1,000-word book review instead of a 50,000 word essay.
How has parenthood changed the work itself, if at all?
The Objectivist poet George Oppen said: "There are situations which cannot honorably be met by art. Some ideas are not politically useful, or useful to the childhood of a daughter." I think about that often. I do think it's more important to be a dad than to write another poem. When you become a father, or a parent, what they don't tell you is that you are shoved, face-to-face, with your own father's failings. You see how easy it is to be a parent, and how challenging it is. You have a responsibility and an opportunity to not repeat your parents' mistakes. You may introduce new mistakes, but the cycle of the past will finally end with you. When you think about a piece of creative writing, you must resist the voices of ghosts: authority figures, teachers, parents. You must engage with language for the process in itself. The product is unimportant. With children, it's all a process. Anything can and does happen with kids. You have created your greatest poem, in a way. Hopefully, the work will improve no matter what occurs. Being a writer means choosing to write in spite of conditions.
What is the most challenging aspect of being a working artist and a parent?
Society hates working artists. It's both difficult and impossible. Finding stable work is difficult, or doesn't happen. Working artists have no value in a capitalist system. Particularly if your work is politically engaged, and works for social justice, you must be mindful that what you make is a kind of gift. I do fantasize about quitting writing all the time, but then some image or impulse will induce me to write again, and again. And again. Being a parent is commonplace, but being a writer and a parent forces you to make difficult and impossible choices. Think of Frost, Freud, Marx, Plath. Honest to God, they were willing to die for their writing. Imagine a culture where we could work in peace and raise our children without having to be worn down by the rent. My greatest fantasy is nothing sexual… it's to have my own creative writing program, hire whoever I want, teach people how to read. It's not going to happen.
Do you have any advice to other writers with kids or who plan to have them?
Espresso four times a day. A Negroni or a gin tonic or a whiskey at 5:00 o'clock. Try to find a way to pay someone to clean the apartment. When you're writing, be writing. When you're playing American Girl dolls or watching Max and Ruby–as awful as that is– be wholeheartedly into what you're doing. They can't mix. Ask for help when you need it. Be generous to your spouse because that person knows what it is… it's a life of having to just get on with it.