Shane Jones was kind enough to take part in this series as its first "Writer, with Fetus." His son has since been born, and Shane's had a while to navigate the transition to the life of a writer/parent. I'm very glad to offer this follow-up interview now.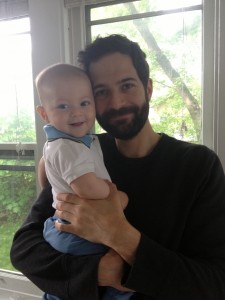 Shane Jones, author of: Light Boxes, Daniel Fights a Hurricane, Crystal Eaters (forthcoming 2014 from Two Dollar Radio).
Age of kid: 8 months.
How did the transition to parenthood go? Have you settled into a new writing routine?
I love being a father, but why doesn't anyone talk about how difficult the transition is? Before Julian arrived, everyone said things like: "You'll do what you have to do," "It's hard, but you'll get through it," and "It's going to be such an amazing experience for you two!" And all those things are true, but they didn't help in the transition. I remember bringing Julian home from the hospital (after some mild complications and being in a hospital room for four days) and just this wave of "wow, he's here forever" kind of feeling coming over me. The transition is very fast and really morphs the way you view things and changes how you approach the most simple tasks. For example, when you have a baby, and your wife or husband is at the supermarket because you haven't eaten all day, and you have to go to the bathroom, where do you put the baby? What if you want to take a shower? How do you function on little to no sleep? What do you do with an infant all day and night? My wife stays home with Julian, so she's had to tackle all these things and she's done such an amazing job, but man, it's hard. I think everyone kind of brushes over those first two or three months (which I think were the hardest so far) with generic positive sentiments. Fuck that. The transition to parenthood is going to blow up your world in the best and worst ways. It's the most challenging and rewarding thing I've ever experienced. As far as a writing routine – no, not really.
Have you found that you approach your work differently now?
In the past I had a morning writing routine and an evening writing routine. I could also write pretty much whenever I wanted. Several weeks ago Julian started going to sleep early, by 7:00, so I have time after to write and read. I think the biggest difference is just not having the mind space to dream up ideas and work through ideas. When Julian is sitting in the playroom, throwing wooden blocks and laughing, it's really all I want to watch and concentrate on. A lot of my time is spent holding him, playing with him, taking him for walks, etc. It's really amazing to see him grow and discover everything. Before I was just sitting around a lot and thinking things like, "How can I get X to morph into Y at the end of the story." I'm not writing as much as before but that's okay. Julian is only going to be a baby for so long and I'd hate to miss things because I'm at the library working on a story about horse people. Also, to other fathers – put away your hobbies and selfish distractions because the mother of your child needs you more than anything. She pushed a human being out of her body and now she's feeding it from her body. You can skip the Giants game.
What has been the most challenging aspect of finding the balance between parent and working artist? What most surprised you?
Switching mentally from writing head to parenting head. That's still my biggest struggle and my wife is probably reading this and nodding. I still zone out and get lost in my writing head. For a while I was doing breathing exercises and telling myself to just be a fucking father, be in the moment, turn off the words inside. I think I've gotten better.
Do you have any advice to other writers with kids or who plan to have them?
Don't start any novel length projects for the first year and don't write anything at all for the first three months. Most likely, you'll be so exhausted, writing will probably be the last thing you'll want to do, but eventually you'll get the itch. You'll also need the escape. So, slowly ease back into it. Don't make plans to write, rather, find little pieces of time to write (one good piece of advice I received early on was to "sleep when the baby sleeps" but if you're hardcore, you could flip this to, "write when the baby sleeps"). Telling your husband or wife you need three hours to write, you'll be in the office with the door closed from 12-3 and need absolute silence, might not be the best idea.