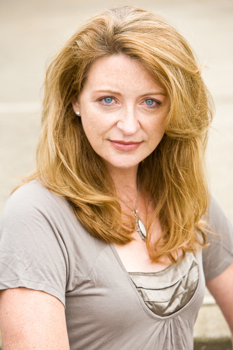 Sophie Littlefield, author of: The Stella Hardesty mystery series (Saint Martin's Minotaur), The Aftertime series (Harlequin Luna), and young adult fiction (Delacorte).
Ages of kids: 16 and 19.
What was your writing schedule (ideal and actual) like before kids, and how has that changed?
I worked full-time in technology before I had children, and I was a hobbyist, writing a few hours a week. At times I belonged to a critique group, but I finished only a few short stories a year. I read a lot, at least as much as I do now.
After my children were born I worked full-time, part-time, and eventually not at all, but I did a lot of volunteering in their schools and elsewhere. During this time I wrote magazine articles and did some freelance copyediting and earned a few thousand dollars a year at it, and began to take myself more seriously as a writer. I had childcare for several hours a week, and that certainly helped. I attempted a novel, and then another. I wrote eight novels over ten years, but never sold any of them, despite trying.
When my children were twelve and fourteen I made the decision to write full-time. I was lucky in that I had been a stay-at-home parent and our household was supported by my husband's salary, so I did not have to get a "real" job immediately, though I knew that if I couldn't earn money writing I would have to do so. I still had no agent or contract, but I took the job very seriously. I worked nearly every day, including weekends, and finished several manuscripts. I sent out queries nearly every day. By the end of the year I had an agent and my first book contract.
How do you remain present for your family even when you're sunk deeply into a current project—say in the sticky middle of a novel's first draft?
Children first – ALWAYS. Doesn't matter what age…when my son was nursing, obviously his needs came first. But now that he's nineteen, if he calls from college, I drop everything. I can count on one hand the number of times I've put off my children or said no to a reasonable request because I was working. I try to be grateful every day for the flexibility this job brings. For instance, today is Saturday and I was in the chair by 6:30am. When my daughter wakes up, I'll walk away from the desk to make her breakfast. It's not uncommon for her to do her homework in my office at night while I'm working.
You know, I hear people saying jokingly that they've taught their kids to heat up microwave meals and that they use the TV as a babysitter. I'm as guilty as anyone of poor parenting decisions, and of course sometimes I have to travel and the kids have had to step up and fend for themselves, but the idea of doing this shit deliberately does not amuse me. Can a person be a good parent and hold a job? Of course. And we all work within parameters that are occasionally out of our control. But I reject the notion that you can't balance a writing life and a family life. Writing is a wonderful job for a parent.
There is a well known literary author who recently said one of the dumbest things I've ever heard. I refuse to googlesearch the exact quote, but he basically said you can't produce enduring or transcendent work if you have distractions. He works in a quiet room with no internet. I wish this fucker would go have a couple of kids before the next time he sits down to write about a mother's life. I've written with distractions from the day I peed on the stick. I remember being up against a deadline and taking my daughter to some regional band festival. The only place to sit while they rehearsed was on the floor behind the percussion section. I sat there for four hours and wrote 4,000 words through the din.
How has parenthood changed the work itself, if at all?
Absolutely – how could it not? I just did a quick mental review of all the books I've written, both published and unpublished. There are ten published or about to be, eight unpublished, and three proposals. Of those twenty-one, only one does not have parenting as a central theme, and it was erotica… Any time I sit down to consider a new idea, the experience of being a mother informs every character decision I make. I wrote a zombie trilogy that was really about motherhood. I am finishing a historical WWII thriller in which all the central action unfolds from a mother's decisions. If I sold a couch on craigslist, the ad would somehow have parenting at the core…
Each day when we sit down to work, we bring what we care about. Humans want a pretty consistent set of things, which is why we find fiction relatable: our characters are going to end up searching for meaning and getting laid and making power grabs and doing penance and protecting the children and avenging wrongs because we do all those things ourselves. Can there be great fiction that has nothing to do with parenting? Sure, why not? But I don't think there can be fiction written by a parent that doesn't in small and large ways bring the diaper bag, even we neither intend nor want to.
I want to add that child-awareness works its way into the stories of even non-parents as they move through their lives and relationships. Some of my best writing friends are not mothers, but they are daughters and sisters and aunts and are around children and they write beautiful stories reflecting all of that.
What is the most challenging aspect of being a working artist and a parent?
For all my brave talk, I found myself completely stymied for a number of years when my kids were small. I just couldn't get the job done. I was dealing with depression at the time, and that was certainly a factor, but there were also entire days that were consumed by girl scouts and carpooling and going to Target and lying on the floor with the baby. I don't regret any of that. I tell young parents who wish to write that it's okay to put your writing on the back burner as long as you're sure your extra time is going to the kids. If you want to use your free precious hours on TV, or knitting, or the gym, that's cool too, but just do it with awareness, because every time you do so, you are making a statement about what you value, and you value those things more than pursuing writing.
Right now there's a truly poisonous attitude out there that we have to get a lot of content up NOW, that we need to put a little lipstick on our backlist or whatever we've got lying around or whatever we can cobble together over the weekend and send it out on the dance floor. What a terrible mistake. I personally don't want anything out in the world that I'm not proud to have written, and if I can't do a competent and thorough job of writing AND parenting, then something's got to give.
(Actually, I guess that leads me to one of my biggest challenges…financial. How does a working artist afford kids? How can you spend the time to create something you're proud of, and give your children the attention they deserve, when you don't have a steady paycheck? But that's an entirely different problem…)
Do you have any advice for other writers with kids or who plan to have them?
I really think that if you constantly revisit and evaluate your priorities, most decisions aren't that difficult. For me, age has brought the gift of being able to tune out a lot of the "should" voices and the would-be comparers. The choices your friends, colleagues, and peers make don't have to be your choices. Give your children what they need and deserve. Give your art the rest.
I was working in a coffee shop with another writer/mother yesterday. A steady stream of babies and young children came into the shop, and we fussed over every one. Did my work suffer for the distractions? Oh, maybe my word count was a little lower – but I'm pretty sure that having all those little human beings parading by enriched my prose in ways I'm not even conscious of. Once you're a parent, your art changes, and for me, that's been a good thing.