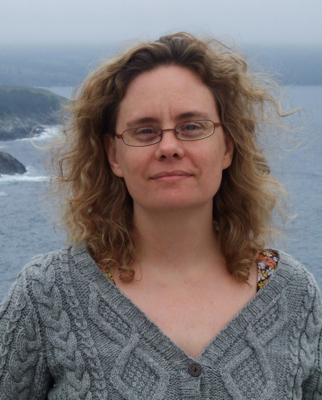 Stephanie Pearl-McPhee, New York Times bestselling author of At Knit's End, Yarn Harlot: The Secret Life of a Knitter, Free-Range Knitter, Things I Learned from Knitting, Casts Off, Knitting Rules, All Wound Up, and her blog: Yarn Harlot.
Age of Kids: 18, 20, 22
I began to support my family by writing books (although I'd always written, just without the pressure of any real success) about eight years ago when my daughters were ten, twelve, and fourteen. At the time, I remember people telling me that they thought that it was a great match, being a mum and a writer. After all, I worked from home, my workspace could be wherever my kids were, I worked the hours I wanted to, and I had great and tremendous flexibility, so I could always be there for them.
At the time, I believed everything people were saying to me. I could see how it was all true, and I kept trying to feel lucky, and like my life was easier than theirs, but for some reason I couldn't quite puzzle out, every single time someone told me how great it was, I wanted to pluck their nose hairs out just to watch the tears well up. It has taken years for me to clarify my position, and Cari said I could write whatever I wanted for this blog post, so I'm using it to do what I hope is a little favour for writing parents everywhere. Read this next sentence carefully. It's the important one.
Writer is not a synonym for stay-at-home parent.
I have a job. I know writing looks like it isn't a job, I know it sounds super fun, and I know I get to do it from home, and I absolutely concede that it is pretty amazing to be able to go to work in my underpants, but I feel like after almost a decade of trying to balance my culture's perception that I'm unemployed with the reality of having a full-time job, I've decided it's a diaper of a different colour. Like most parents – or at least, like most good parents, I have always put what my kids need first. Absolutely first – so I did feel lucky that when one of my girls re-enacted the vomiting scene from The Exorcist I could put down the work and pick up the kid, but like all parents who work, it didn't change the amount of work that had to be done. All of the allegedly amazing things about my job turned out to be big challenges. Enormous challenges, and as the years went by I became increasingly jealous of the parents I saw who had guaranteed and protected time to work every day. I had to work very hard to learn how to defend the time I needed to write, and how to explain to the people around me that while I wanted to be there for my kids 24/7, and how I knew that it looked like my job made it possible to do that….that I really was going to need some time to work that was protected the way that leaving the house and going to an office protected the productivity of other people with jobs. I needed to learn what I was going to say when people were surprised that I needed childcare now and then, and I needed to learn how to explain to my family, friends, and community, that writing wasn't play time, or personal time, or fun time, or a hobby. It was the same as the work they did. That last part turned out to be harder than anything else.
One summer, a mum and I chatted about how she'd just managed to secure summer daycare for her kids – and I responded with envy. I think I said I had a ton of work to do, and was really worried about how I was going to manage once the kids were off school, and this mum expressed surprise that I would want or need childcare when I had the flexibility of being a writer. Didn't I want to put that time with my kids first? Weren't they my number one priority? At the time I was on a book deadline, and while writer isn't a synonym for full-time parent, writer on a deadline is absolutely equivalent to lunatic – and it was all I could do not to smack her. I asked her why she needed or wanted childcare. Why wasn't she putting her kids first? She owned her own business – there was no boss to stop her, I mean, why not just take that pack of hooligans to the office? What could possibly be the problem with that?
She laughed that way people do when they're a little bit frightened of you, and said that she absolutely could not take the kids to work with her. She had work to do, and though she tries to put her kids first, if she had to take care of her kids nothing at work would get done. She'd have to let them watch too much TV or spend their whole summer photocopying parts of their various anatomies, which (while fun) was hardly good for them. She giggled with the ridiculousness of it. I stared – and in that moment I realized something. She didn't just think that I had all that flexibility about when I worked, she thought I had flexibility about how much I worked at all. After all, I was a writer.
If a writer doesn't work, they don't make money, just like any other job. The other real truth is that there's more than one way every parent needs to care for their family. Meeting their physical need for a loving parent is one thing, but what part of not buying them food is helpful? For most writers with kids, the gift of flexibility means that on those days when one of the tykes has barfed for nine hours, a writer can put absolutely put off their work. That gift then pays off as the writer starts typing after the kids are finally in bed, after they have put the disgusting sheets in the washer… and then they stay up half the night pretending that drinking a whole lot of coffee is good for you because of all the antioxidants in it, and silently pray that the dose will mean they live long enough to finish the book. For writers who need to write (and I don't mean that in a spiritual, but financial sense) being a writer and a good parent means that you are sometimes going to have to choose between your kids and your work, just like if we had office jobs, and while we've accepted that – it would be a hell of a lot easier if we didn't have to deal with a world around us that thinks that being a writer means that we're the parent on the committee who has the time to bake those 98 cupcakes the school needs for the bake sale, because of all our fabulous work flexibility.
From the outside, I know that the perks of our jobs must seem pretty amazing to parents who don't have them, and I bet that right now, some non-writing parent who's searching for good daycare is scoffing the snot out of the idea that I'm envious of them, but I have been. The reality of the writer/parent is that the stuff about working full-time outside the home can look like heaven to us. Every writer/parent I know does a huge chunk of their writing after the kids have gone to bed, working into the wee quiet hours, and then staggers through their day with the kids. The ability to use what flexibility the job granted me was amazing – but the difficulty of having that work respected, and protecting the time to do it was almost impossible. I know I'm not the only writer fantasizing about a world where every day they went to a small room that their kids weren't allowed in, and worked without interruption. Being a working writer who has a child or three, and who can't afford or doesn't choose childcare means that parent/writer is actually doing two jobs at once, with both being disrupted by the effort. Like someone working outside the home who has to leave their kids to get it done, the writing gets interrupted by the parenting, and the parenting gets interrupted by the writing and the writer struggles to find some kind of balance.
Over the years that I've been a mum, I've watched the phrase "working parent" disappear, and fairly so, it's been replaced by the idea that all parents work, either inside or outside of the home. As the ideas around work and where it happens change, as more and more people telecommute or work from home, maybe the next step is to work on our creating a way of thinking about the dilemmas of working artists at home with their kids, cleaning up puke, baking cupcakes, trying to nail a word count, drinking way too much coffee, and thinking a whole lot about Virginia Woolf and how right she might have been about having a room of one's own. All that flexibility has a price.